Local Link Kerry is delighted to announce

 
"Kids Go Free"

 
Campaign from the 14th August to 27th August 2017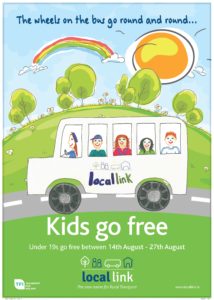 Kids Go Free Campaign  
This campaign allows all Kids (up to 19 years of Age) to travel for free on all scheduled Local Link Services. www.locallinkkerry.ie/timetable
It will run for 2 weeks – 14th August to 27th August (just before the kids go back to school)
"Kids Go Free" campaign is an opportunity to promote the existing bus services in Communities all over Kerry and the Target Audience for this campaign is;
Children/young people up to 19 – under 3's go Free as is normal.
Parents / Grandparents / Guardians / Aunties / Uncles / Siblings /  Baby-sitters /Carers of Children –  who would like to take the kids out for a day.
If you have any suggestions / ideas in relation to to developing a Transport Service where there are unmet needs please contact Local Link Kerry 066 7147002 or info@locallinkkerry.ie
Quotation from Catherine – North Kerry Passenger 03.08.17 
"So today for something different to do (during the very long school holidays) we decided to go to Tralee on the bus! We used Local Link Kerry. What a brilliant service. I rang them this morning and the lovely Yvonne booked us on.
Tony (from the fab Daughtons buses) picked us up from the end of our road and we were on our way. A great journey through parts of North Kerry I had never been to, and on into Tralee. Tony arranged to pick us up from Dunnes a couple of hours later (after some shopping and pizza) and he dropped us home to the door! Rural Ireland needs more services like this one. It's fantastic."