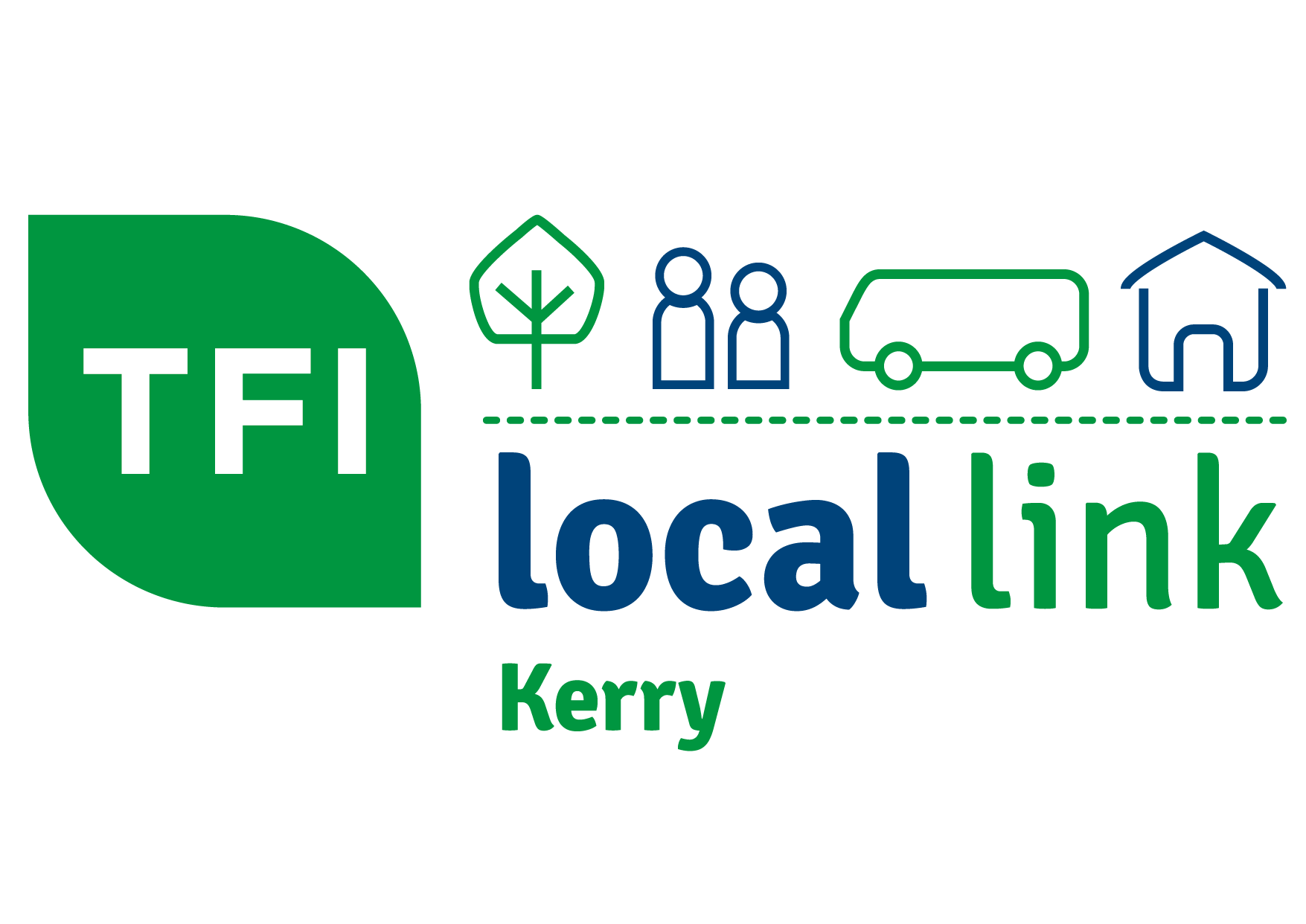 Kerry Community Transport CLG t/a Local Link Kerry
has a vacancy for a full time Service Procurement & Compliance Officer
Kerry Community Transport CLG, t/a TFI Local Link Kerry, is one of 15 Transport Co-Ordination Units (TCU) which are funded by the Department of Transport and managed by the National Transport Authority (NTA) under the Rural Transport Programme (RTP). Rural Transport Programme funding ensures the delivery of local transport options in rural areas. Currently TFI Local Link Kerry is working towards the implementation of the Connecting Ireland Rural Mobility Plan for the region.
Kerry Community Transport CLG is a not-for-profit organisation with charitable status.
TFI Local Link Kerry, have a vacancy for full-time position of Service Procurement & Compliance Officer. Initially, this position will be offered on a Fixed Term Contract to 31.03.2024 for 35 hours per week. Salary will be offered commensurate with skills and experience.
Purpose of the role
The Service Procurement & Compliance Officer will be responsible for the procurement, appraisal and issuing of Contracts to operators as well as ongoing compliance of contracts in conjunction with the National Transport Authority.
Key Duties:
Working with the General Manager and the Local Link Kerry team to Manage relationships with key contractors, undertaking timely tendering exercises, drafting of tender documents and improving Local Link Kerry internal procurement functions. 
Procurement:
Ensure procurement exercises are undertaken in a timely and professional manner, in compliance with National Transport Authority agreed policies.

Creating and maintaining a database relating to Operators, including an updated log of inspection requirements, production of required documentation and the maintenance of agreed standards.

Create, maintain, communicate and implement procurement governance processes and policies.
Compliance:
Managing Rural Transport Service Contracts on behalf of the National Transport Authority

Ensuring that accessibility standards as required in the procurement of operators are adhered to and that best practice is followed in terms of service provision to people with accessibility issues.

Monitoring the level and quality of service provided by Operators in the TCU Area as per requirements as set out in the Rural Transport Services Contracts. 

Assisting in managing the operation of public transport services.

Contribute to the development, enhancement and evaluation of compliance and enforcement policies.

Be responsible for compliance checks and audits of contracted services, vehicles, drivers, schedules and passenger assistants.

Investigate contract and compliance breaches relating to transport services.

Work closely with the National Transport Authority to ensure accurate reporting and compliance.

Conduct or direct the internal investigation of compliance issues.

Identify compliance issues that require follow-up.

Disseminate Best Practice including written policies and procedures related to compliance.

Oversee the annual internal-audit check of Contracted Operators.
The ideal candidate shall have the following Person Specifications & Required Competencies:
Geographical knowledge of Co Kerry

research and analytical abilities

Negotiation Skills.

a willingness to assume responsibility and take on decision making

effective written and verbal communication skills

proficiency in all relevant computer applications (MS Office)

an ability to work as part of a team.

an ability to effectively plan work and to manage work programme

Proven organisational and time management skills.

strong interpersonal skills

Full Driving Licence with access to a vehicle
Qualification & Experience:
A third level degree in Business, Logistics, or Administration desirable

Over 5 years relevant work experience

Excellent IT Skills
Skills and personal qualities required;
Applicants need experience within a procurement governance or procurement process role.
Service Procurement & Compliance Officer applicants should meet the following criteria:
Experience in; procurement governance, procurement risk and procurement compliance activities

Experience of / ability to introduce procurement policies, systems, processes and ways of working

Excellent stakeholder engagement skills, and ability to leverage a diverse stakeholder network

Continuous improvement mindset, and the agility to support a procurement function
Desirable attributes:
A good knowledge of public service policies, services and activities particularly in the public transport area or, the ability to quickly acquire such knowledge.
Training:
There will be elements of this role that will require training specific to the nature of the transport industry. This will be organised by the company on an ongoing basis
Application Requirement:
Please send Cover Letter outlining how your qualifications, skills and experience fit the role and a Curriculum Vitae to jobs@locallinkkerry.ie (Subject ref: Service Procurement & Compliance Officer) or by post to; General Manager, TFI Local Link Kerry, Island Point, Tralee Road Industrial Estate, Castleisland, Co Kerry V92 E894
Closing Date for receipt of application is Friday 14th April 2023. Interviews will be held week ended 21st April 2023.
Kerry Community Transport CLG t/a Local Link Kerry is an Equal Opportunities Employer.