---
ROUTE 283 – CURRANS – CURROW – KERRY AIRPORT – FARRANFORE – FIRIES – BALLYFINNANE – FARMERS BRIDGE – TRALEE                                                        
Monday – Saturday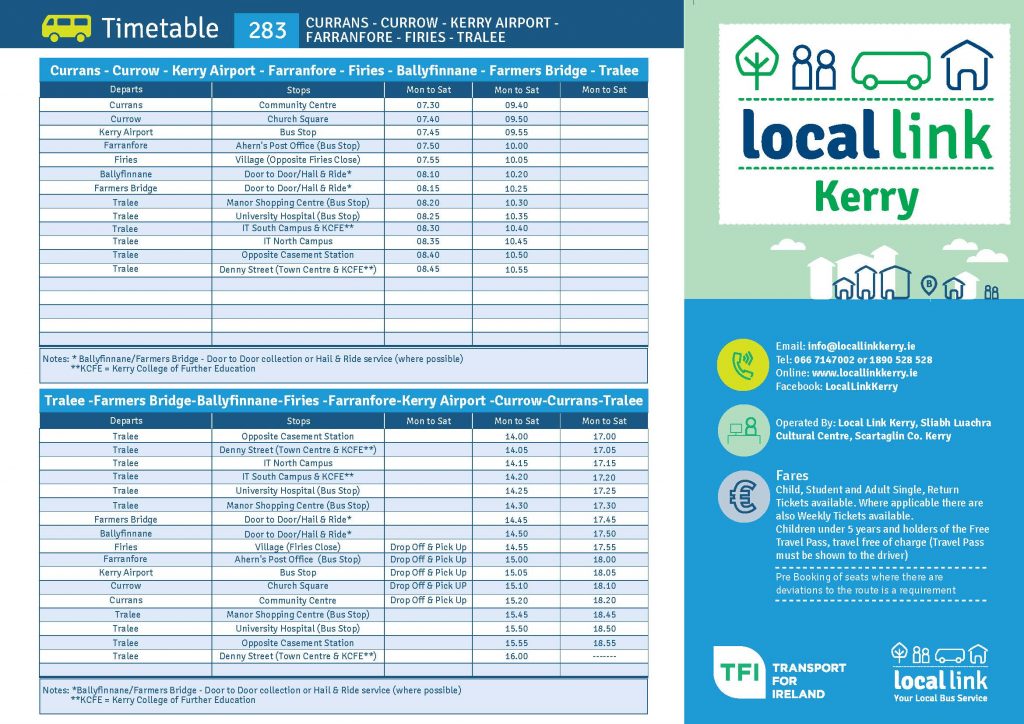 For further information – https://www.locallinkkerry.ie/route-283/
---
R2 – CURROW – FARRANFORE – FIRIES – BALLYFINNANE – TRALEE
Every Tuesday
Depart: Church Car Park, Currow – 11.00
Depart: Farranfore – 11.15
Depart: Firies Village – 11.30
Arrive: Grand Hotel, Denny Street – 12.00
Depart: Grand Hotel, Denny Street, Tralee – 14.15
Depart: Manor West, Tralee – 14.30
Arrive: Firies Village – 14.50
Arrive: Farranfore – 15.05
Arrive: Church Car Park, Currow – 15.20
This Service will be Door to Door (where possible) in the following townlands:
Currow Church Carpark , Dromulton, Ballybeg, Dicksgrove, Currow City, Farranfore, Boolacullane, Skahies, Rossmore, Firies Cross, Longfield, Firies Village, Bushmount, Ballyfinnane, Tralee.
Pre-Booking of seats is a requirement where there are deviations to the Route.
Due to the door-to-door nature of the above service this may result in slight change to Pick up times.
---